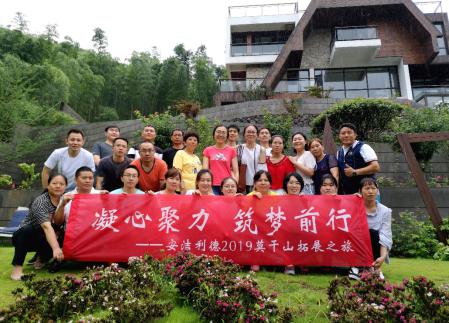 Road resistance and long, line will come; We will continue to count down the year 2019.
  You must be rewarded for your efforts.
  Looking back over the past year,
  You'll find,
  With you as a witness to Angelid's growth,
  Angelides has always been there for you.
  PART 1 Our staff activities -- enrich staff's leisure cultural life and enhance team cohesion.
  Picture 21. The JPG
  Our fitness test
  Picture 22. The JPG
  Watching the Wandering Earth
  Picture 23. The JPG
  Badminton competition
  Picture 24. The JPG
  Moganshan Expansion Tour
  PART 2 Our staff training - to meet the needs of self-growth of employees, but also improve the efficiency of the enterprise, promote the overall development of employees and sustainable development of the enterprise.
  Picture of 25. The JPG
  Acoustics Training
  Picture 26. The JPG
  Fire Safety training
  Picture 27. The JPG
  Emergency safety management training
  PART 3: Our exhibition -- with a number of products to shine 2019 annual exhibition, with leading science and technology for the public transport industry to bring safety, energy saving, environmental protection flame retardant heat insulation noise reduction materials.
  Picture 28. The JPG
  BUSWORLD Kortrijk, Belgium
  Picture 29. The JPG
  Bus equipment and technology exhibition
  Picture 30. The JPG
  China Road Transport Vehicle Exhibition
  PART 4 Our achievements -- through continuous efforts and innovation, our products have achieved a new breakthrough in flame retardant, heat insulation and noise reduction, which has won wide recognition in the industry and established angelide as a leader in the field of flame retardant, noise reduction and heat insulation.
  Picture 31. The JPG
  China Road Transport Vehicle Exhibition
  It won two awards of 2019 "Safety technology Innovation Product" and "Environmental Technology Innovation product"
  Picture 32. The JPG
  Build your own sound-absorbing lab
  Glory belongs to the past, the future has a long way to go,
  Say goodbye to 2019,
  Angelide will embark on a new journey,
  Stay true to your original aspiration and forge ahead.
  Forge ahead and embrace the future!