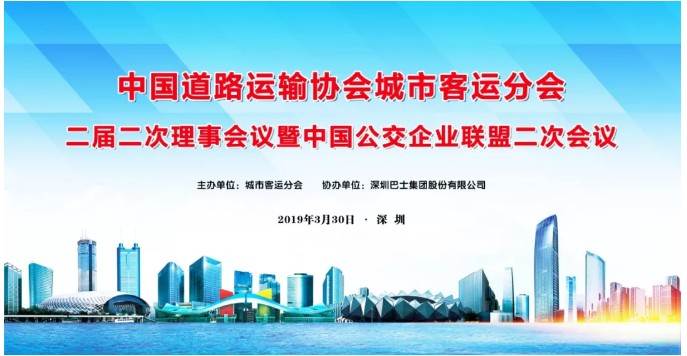 On March 30, 2019, Angelet was invited to attend the second council Meeting of urban Passenger Transport Branch of China Road Transport Association and the second Meeting of China Public Transport Enterprise Alliance. Under the guidance of Xi Jinping Thought on Socialism with Chinese Characteristics for a New Era, the meeting comprehensively implemented the spirit of the 19th National Congress of the CPC and the second and third Plenary sessions of the 19th Central Committee. In order to help build China into a transport power and improve the quality of industry development, it planned and arranged key work and promoted the implementation of established plans. The 2nd Council of Urban Passenger Transport Branch of China Road Transport Association (hereinafter referred to as Urban Passenger Transport Branch) and the 2nd Meeting of China Public Transport Enterprise Alliance was held in Shenzhen on March 30, 2019. 350 people from council members of urban passenger transport branch, provincial (district) level urban public transport association, urban public transport enterprises, bus and parts manufacturers attended the meeting.
  Meng Qiu, director of urban Traffic Management Department of Transport Service Department of Ministry of Transport, attended the meeting and made a speech. Wang Chunjie, vice President of China Road Transport Association, President of Urban Passenger Transport Branch, Party Secretary and President of Beijing Public Transport Holding (Group) Co., Ltd. attended the meeting and made a speech; Public transport industry old leadership, expert consultant Zheng Shusen, urban public transport political research meeting chairman Sha Yong attended the meeting.
  At present, there are still some problems in the public transport ecosystem, mainly involving: uneven government attention, insufficient investment, different evaluation angles; The cooperation force of industrial associations and organizations is weak, the influence is insufficient, and the international exchanges are less; Urban passenger transport enterprises are suffering from the "four major shortages" of passenger transport market change, new travel mode impact, security and stability pressure, management difficulties and lack of standards, lack of funds, lack of innovation, lack of talent; Equipment technology manufacturing enterprises are confronted with the difficulties of coexistence of excessive competition and local protection, shortage of technology research and development and talent shortage, market expansion pressure and capital pressure. The new Internet travel service enterprises are changing from the savage growth to the rational development, from the emphasis on development and management to the strengthening of industry management. They are facing the test from the continuous investment of capital, the cost of acquiring passengers, security service, profit model and many other aspects. The public transport industry education training and systematic training of public transport professionals institutions are weak, the core jobs lack of systematic training and many other content.
  As a practitioner of the public transport industry, Angelet has been committed to the production and development of flame retardant materials for bus interiors. In recent years, the ongoing technological innovation, and promote industrial upgrading has made brilliant achievements, developed a flame retardant, such as noise, heat insulation performance more excellent environmental protection material, and is widely used with each big bus companies, the escort for public traffic safety, and is superior to the performance of field to explore, to actively coordinate and strengthen exchanges and cooperation between industry, To seek the development of the industry and win-win enterprise operation and continuous efforts.